Robotics
In the robotics industry, speed and reliability are non-negotiable. And Motor Power Company's motion control and mechatronic solutions are delivering on this promise.
Motor Power Company's control technologies and systems allow for the smart management of production lines and industrial robots.
Solutions: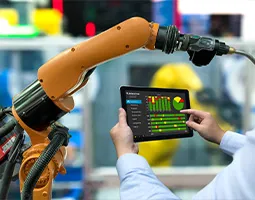 Antropomorphic robots
In repetitive and non-repetitive processes alike, our motors and drives help increase production, accuracy and reliability.
Perfect for application in anthropomorphic robots our motors perform a wide variety of tasks, granting these robots their ability to perform tasks with accuracy, excellent motion control and repeatability.
Products for Antropomorphic robots:
Products and details